[ad#TITANIC]
East View:  Live Web Cam of East Asheville
As we look at the the East view, down on Pack Square, the true center of downtown Asheville, we can watch as Pack Square Park evolves through its transition into a gorgeous outdoor venue for music, festivals and just plain relaxing.
[ad name="GoogleAdsenseUnderCam"]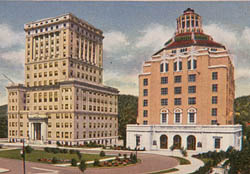 The Buncombe County Courthouse along with the Asheville City Hall, designed by Douglas D. Ellington, are a key part of Asheville's skyline, and can be found on the National Register of Historic Places to Visit.
In July, the streets are closed and full of people enjoying Bele Chere, a 3- day street festival of food and music and which has been voted one of the top 20 events in the Southeast.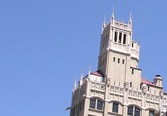 Trendy restaurants and music listening spaces are dotted all over downtown, along with interesting shopping, the Mast General Store, Pack Place Arts and Education Center (Diana Wortham Theatre, Asheville Art Museum, and The Health Adventure), the Fine Arts Theater (a terrific renovation of an older movie house showing fine films not necessarily shown in the larger commercial theaters), many art galleries, the financial center of Asheville, and an often eclectic mix of people.
Beyond downtown, East Asheville includes the neighborhoods of Beverly Hills, Chunn's Cove, Haw Creek, Oakley, Oteen, Reynolds, and Town Mountain. East Asheville is home to the Asheville Mall and other shopping meccas. The neighborhoods are happy to have Recreational Soccer, many city and county pools, as well as varied parks and a great place to raise a family.
[ad name="GoogleAdsenseUnderCam"]