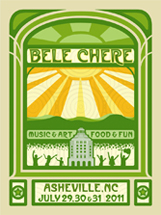 Setup for Bele Chere 2011 is officially in full swing as the downtown area prepares for the biggest festival of the year.  Here at AshevilleLiveCam, we'll be adjusting our cameras to give you the best views of the festival as it progresses.  If you can't be here, then you can beat the heat by sitting back and watching the festival unfold from the comfort of your own home.  If you're coming out, then you can see how thick the crowds are and plan accordingly.  As always, we'll still be focusing our west cam on the Westgate Bridge every so often so you can check the traffic.
We'll be posting lots of pics of the festival, and hopefully a video or two.  We've got some helpful festival links on the right side of the page, including links to the official Bele Chere site (which is currently getting hammered, so it's kind of slow), and the official street guide and entertainment schedule.  There may also be a surprise or two in the offing, but shh... can't talk about that.
Be sure to check back often to see what we've got in store for you today at AshevilleLiveCam.com!
UPDATE: I've uploaded a large gallery of high resolution images captured this morning as the vendors were still setting up.  Check it out below.
[slidepress gallery='bele-chere-2011-setup']