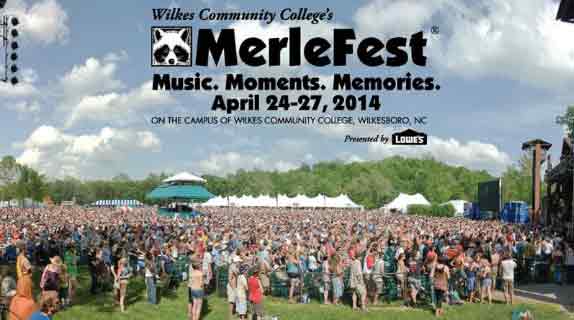 MerleFest, considered one of the premier music festivals in the country, is an annual homecoming of musicians and music fans held on the campus of Wilkes Community College in Wilkesboro, North Carolina. MerleFest was founded in 1988 in memory of the late Eddy Merle Watson, son of the late American music legend Doc Watson. MerleFest is a celebration of "traditional plus" music, a unique mix of music based on the traditional, roots-oriented sounds of the Appalachian region, including bluegrass and old-time music, and expanded to include Americana, country, blues, rock and many other styles. The festival hosts over 130 artists, performing on 13 stages during the course of the four-day event. The annual event has become the primary fundraiser for the WCC Endowment Corporation, funding scholarships, capital projects and other educational needs.
Ticket Info and Prices
Which Ticket Should I Buy?
A reserved seat ticket ensures the ticket holder will receive a reserved chair in front of the Watson and Cabin Stages. Chairs are provided at most of the other stages and are available on a first-come first-served basis or you may bring your own chairs or blankets.
A general admission ticket is a great choice for festival goers who prefer lawn seating and plan to bring their own chairs and blankets. Chairs and blankets must be removed each night. You may take them with you or store them in our convenient overnight storage at no charge. General admission pass holders may use unoccupied reserved seats before 5 p.m. or until owner returns.
Tickets 
Early Bird Thru 3/10/2014
Beginning 3/11/2014
4-Day Reserved Seating at the
Watson Stage (Limited) 
$235 row 1 – 35
$260
$210 row 36 – 49
$235
4-Day Pass General Admission
$150
$165
Fri/Sat/Sun General Admission
$135 
$145
Single Day General Admission
Thursday Gates Open 2:30 p.m.
$ 40
$ 40
Friday Gates Open 9:00 a.m.
$ 55
$ 55
Saturday Gates Open 9:00 a.m.
$ 60
$ 60
Sunday Gates Open 9:00 a.m.
$ 45
$ 45
Midnight Jam (Limited)
$ 40
Can be purchased with a 3-Day, 
4-Day, or Saturday entrance pass only
4-Day web/phone orders only 

On Campus RV (Limited Availability)includes one vehicle pass. †
RV Rules and Regulations  

$450
$450




Flattop's Parking (Limited Availability) †
(located next to Sagebrush on Collegiate Drive)

$95
$95

Pre-Paid Parking (Limited Availability) † 

$140
$140

Primitive Tent Camping at Rivers Edge ††
Operated by Wilkes County Recreation Department (drugs, alcohol, animals prohibited)
1 tent/1 vehicle per site – limit 450 primitive sites (1-Day Camping available on site)

Campsite up to 4 persons

$ 75
$75

For limited (self-contained) RV camping at Rivers Edge call Wilkes County Recreation Department at (336) 651-7352 

 
† Can only be purchased with 4-Day Festival Pass
†† Can only be purchased with 3 or 4 Day Festival Pass 
Handicap Parking: All public parking for persons with a disability and appropriate state-issued handicap parking credentials will be located at Shuttle Stop H in the Blue Lot. MerleFest has designated the entire north paved area for handicapped parking only and has designated shuttles for this area that include wheelchair accessible vans to transport guests to the main festival entrance (turn right at the end of Stokes Street onto Industrial Drive). ADA Contact 
Refunds/Exchanges will only be issued if postmarked by February 1, 2014.
Return by mail to: PO Box 120, Wilkesboro, NC 28697-0120
Tickets purchased after April 15th will be held @ Will Call unless customers choose the print@home option.
NOTE: Children 12 and under are admitted FREE to general admission seating areas (accompanied by a paying adult);
however, tickets are required for all seats in the reserved seating area.